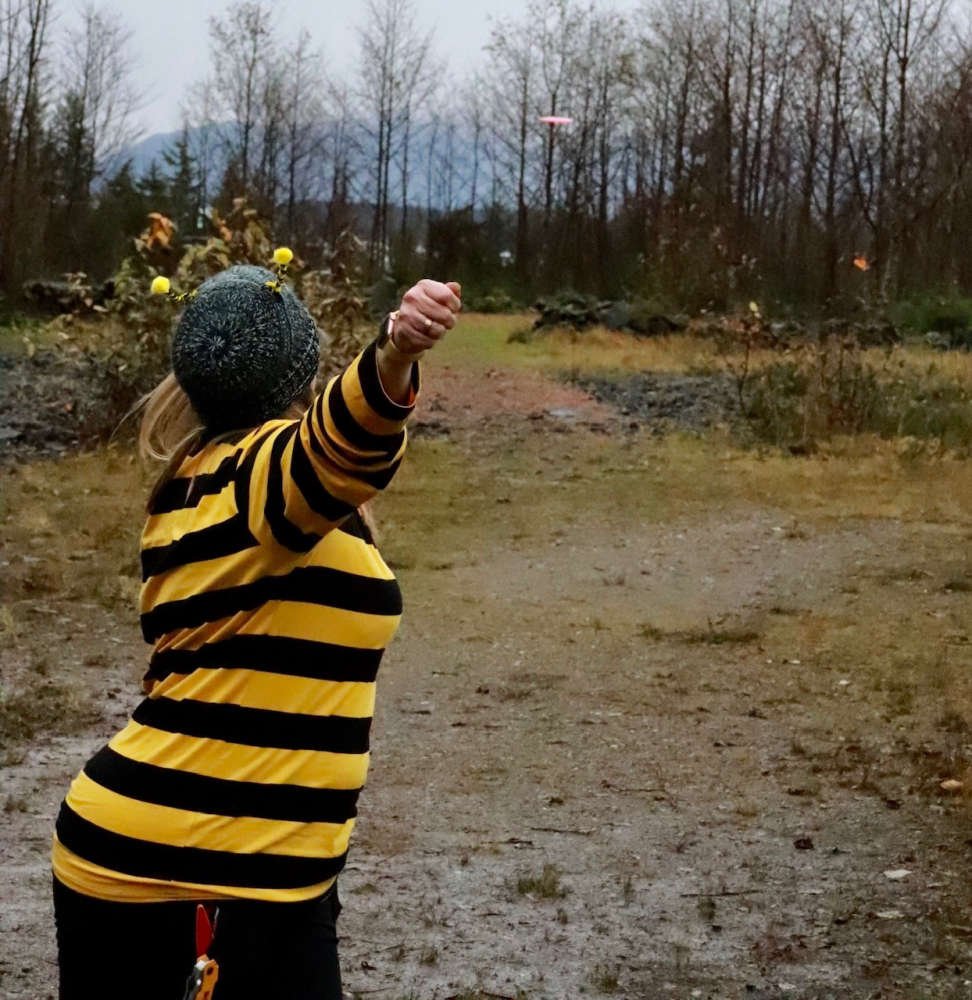 Kassie Struble throws her disc (Photo courtesy of Jasz Garrett/KINY)
Juneau, Alaska (KINY) – Sunday was Juneau Disc Golf Club's last tournament of the year.
It was named "Tombstone Doubles" for it was teams of twos, and people were in costume.
The final tournament took place at the Aant'iyeik course, which is located just past Auke Rec.
Kassie Struble, treasurer of Juneau Disc Golf, talked about how their Halloween tournament went.
"Our club president Joe and then one of our club members Mark won the tournament which was amazing. We got a bunch of candy that we're donating to the high school football team for their drive-in haunted house fundraiser that they're doing. The way this tournament worked was you have a partner, and you each get two shots off of the tee. And then you choose the best shot from there and you both get to take a shot from the best drive. And then hopefully, you make it in the basket for a birdie. And if not, then you take the next best shot for your putt, and so on and so forth. And with Tombstone Doubles, you get 54, you get par for the course, which is 54 shots for our course, to get as far as you can. On your 54th shot, both of your discs remain where they lie. And if you're close to the basket, then you get to have a putt-off with any teams that surpass yours. If they land within 10 pieces of your desk, then you guys get to have a putt-off. And if the team that was on their 54th stroke wins, then they get to move on and take another drive from the next tee pads. It makes the game a little bit continuous, but also really fun and challenging. If your disc is 'tombstoned', you get to haunt the other players. So typically in disc golf, if you're making a putting shot, everybody around would be fairly quiet so that the person could concentrate. When you're in tombstones and you're in costume, you get to haunt the other team that is making their putts. We call it putting under pressure. So you get to be like, are you gonna make this putt? So that's a little bit more difficult if they're used to playing in a super quiet environment. It breaks your concentration a little bit."
The Huskies' haunted drive-through will be October 28th-30th.
Struble said although the tournaments are done for the year, they will be starting a nightly league.
She also commented on the start of their new tournament season in the spring.
"Once it starts getting darker a little bit earlier, we have a Night League, where we go out and you play with glow discs. You play in the dark! Right around May, we do our Skunk Cabbage Open Tournaments. Two fun rounds of red, just a singles game. We have different entries. So we have like a kid's entry and then there can be like just a lady's entry. Then mixed. There's either an over 40 or over 50 group and then we go around and get donations from local businesses. So there are lots of prizes that go around."
Struble was asked to compare Juneau Disc Golf's 2022 to other years.
"We had a great year this year. We had pretty close to 100 members. We had a great turnout for this tournament more than we normally have, around 30. I'd say we had more entries into all of our tournaments this year than we have in the past. It's just been a lot of fun watching our club grow. We worked as a club to get disc golf into the high schools. That's our hope in the future is to have a team at JD and a team at Thunder Mountain and then eventually get teams throughout Southeast on the school level."
Struble noted another Juneau Disc Golf accomplishment.
"That was also some very exciting news for this year was that we got to put up a temporary course of Treadwell and we did get an extension on that. I think we'll keep it up through next summer at this time."
Currently, Juneau Disc Golf has its UAS course, Aant'iyeik course, and Treadwell course.
Follow for updates on Juneau Disc Golf Facebook page.
Above: A tournament participant gets ready to throw their disc.